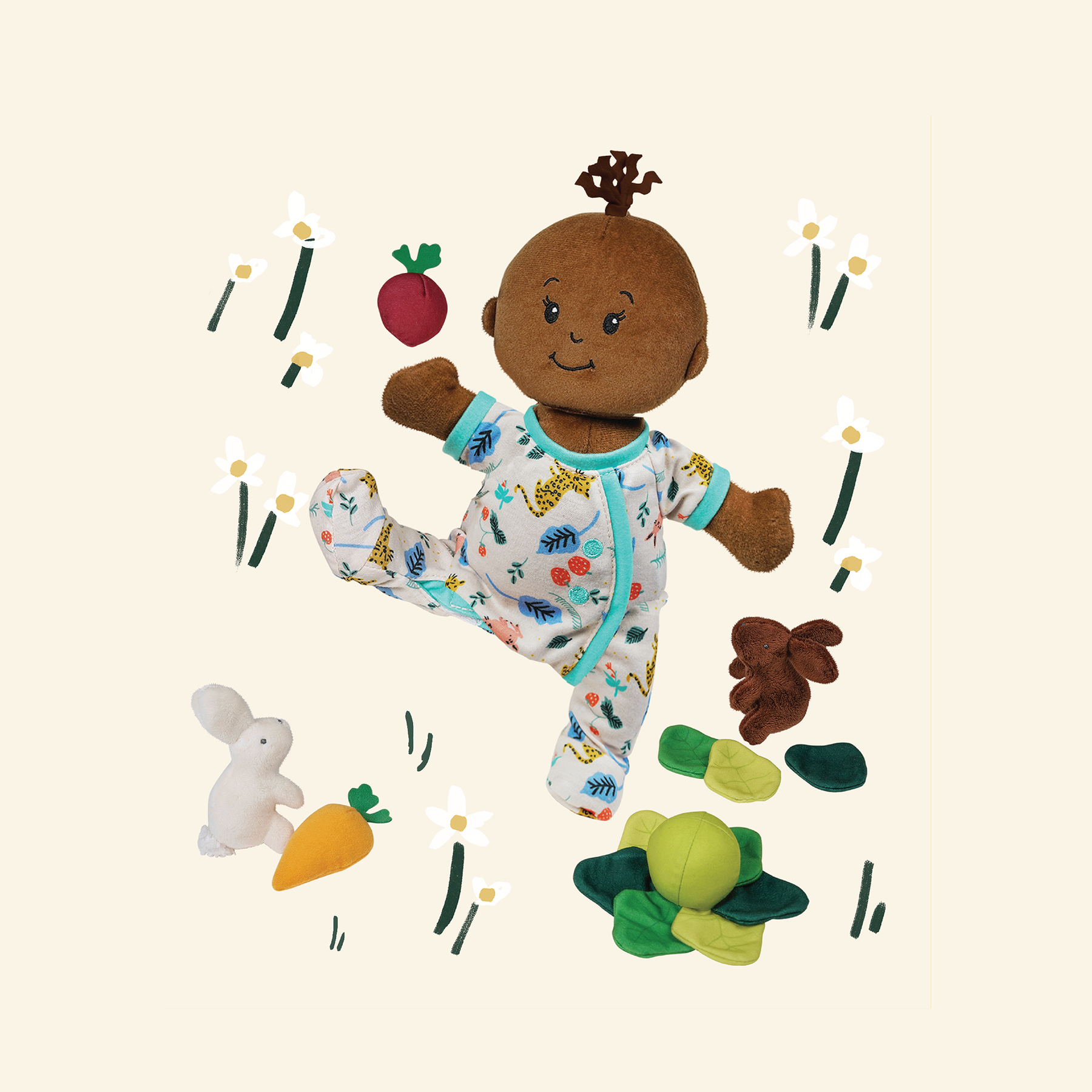 Add additional hair tufts for $3 and playsets for $14!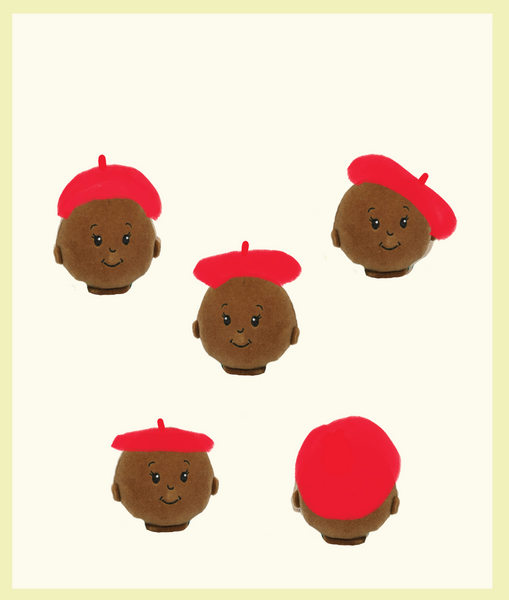 WAYS TO WEAR
A BERET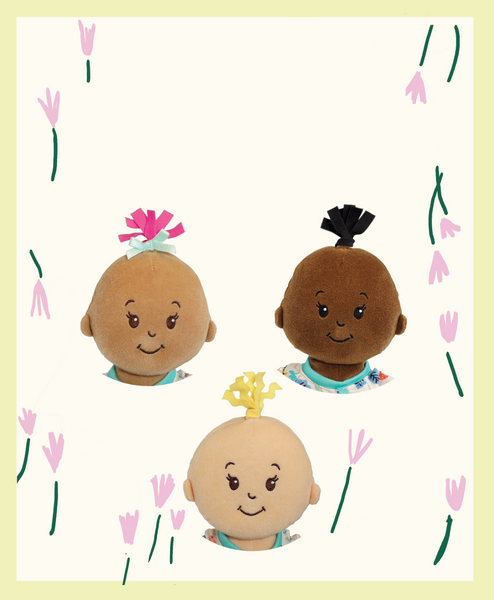 A 'DO' FOR
EVERY MOOD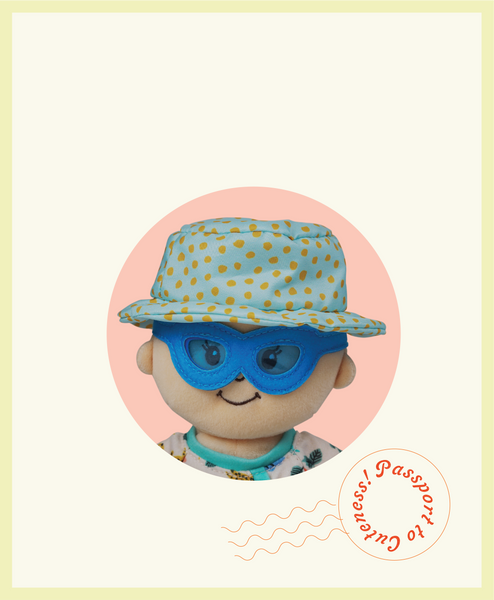 HOW TO LOOK
COOL IN THE POOL
Social Gallery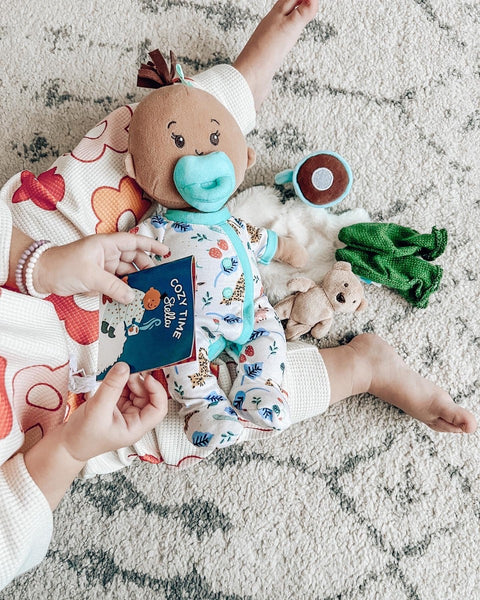 @megann_stacyy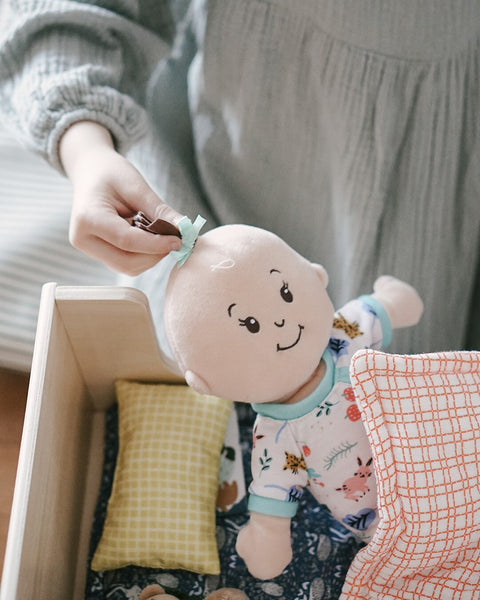 @home.and.haze
@kellcaruso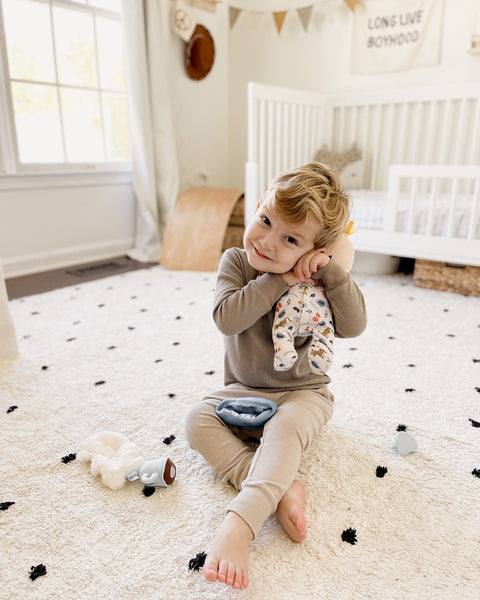 @chasingmatthews
3 Doll Options: Beige, Brown, or Peach. Each doll includes an innovative loop feature for interchanging hairstyles. Comes in a fabric tote with gift tag, dressed in a gender neutral outfit with magnetic pacifier.
20 Hair Options: 4 styles in 5 colors. Each hair tuft includes a loop feature and comes in a drawstring bag with instructions for attaching. Extra tufts are $3 each.
3 Playkit Options: Comfy Cozy, Garden, or Hats & Glasses. Each playkit comes in a drawstring bag and is compatible with all Wee Baby Stella Dolls. Extra playkits are $14 each.
Style Your Own Wee Baby Stella includes 1 doll, 1 hairstyle and 1 playkit for $50. Extra hairstyles are $3 each. Extra playkits are $14 each.
Refer to the printed instructions included in the hairstyle bag or view our Hairdo How To video to see the process in action.
To complete each step of the Style Your Own experience, you'll need to select a doll, a hairstyle and a playkit. You'll be able to remove any unwanted items once you review your cart. If you purchase the doll and remove all hairstyles, the doll will come with a loop feature on its head and arrive in a fabric tote.
All selections are ready to ship from our warehouse as soon as the next business day - no custom order wait required. Please allow an additional 2-3 business days processing time during the busy holiday shopping season.
★★★★★

This doll is so cute, as expected from this line of dolls! It comes packaged so well and is ready to give as a gift right out of the box. Soft, cuddly, and customizable - perfect.

janderbird

New Hampshire
★★★★★

My toddler loves this doll. It's the perfect size for him at 2 1/2 years old and he loves to snuggle it, help it use its pacifier and dress it....love that it comes with a tote bag - it's perfect for a toddler who likes to carry around much more than they can hold in two hands!

Naomi

California
★★★★★

We love Wee Baby Stella dolls and have several. I was so excited to jump on the opportunity to style our own for my 2.5 year old daughter. I love that the baby is soft enough to cuddle with, and my daughter can easily carry her around without her little arms getting tired. It's great that these babies come in a few shades to choose from. - lindseeyymariee, Nevada

lindseeyymariee

Nevada
★★★★★

This is adorable and so easy to attach to the doll. I was worried that it would lay funny after I attached it, but it stands up and everything. It looks just like Baby Stella hair should!

Rachel

Tennessee
★★★★★

This was great with the style your own doll. It was easy to use and it was fun for my toddler to get to pick which hair style would come on the doll. Instructions were included - I appreciated knowing I was connecting this correctly to the doll, but it was pretty self-explanatory and easy.

Naomi

California
★★★★★

This set was so fun! My 3 year old had a lot of fun with the glasses and hats. She was able to put them on the little doll herself after a few tries. She liked pretending they were goggles and sunglasses, a current fascination of hers. I really appreciate the unbranded reusable fabric pouch it came in. The items in this set also fit a lot of my daughter's other stuffed animals and toys, so they get a lot of play!

Güdiemama

Illinois
★★★★★

This worked really well! It came in a fabric pouch without branding for a truly reusable package, which was very thoughtful. The little ponytail comes with instructions to put it on the loop and my 3 year old was not able to remove it after I put it on.

Güdiemama

Illinois
★★★★★

Both of my kiddos love their new Wee Baby Stella doll and Garden Playset! The doll is adorable and so are the garden bunnies!! The garden food and leaves, as well as the nice cloth bags and tote that everything comes in provide so many different options for play. My oldest named the baby "Baby Jeems" and Jeems has had so much fun playing and traveling around with both boys!

Battymath

St. Louis, MO